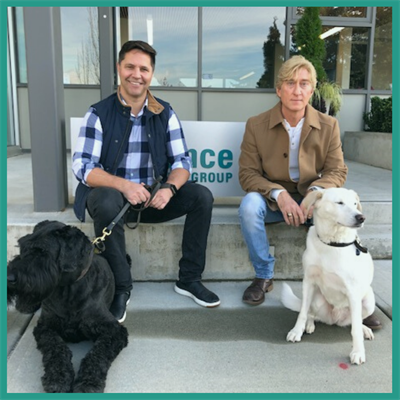 Finding a living kidney donor. You know that friend who's there for you no matter what? The person you can count on to help you move, listen to your challenges, laugh with you in the good times, and support you through life's peaks and valleys? I'm fortunate to have that type of best friend. His name is Steve. And he needs your help.
Our friendship goes back to 2005 — even our dogs are best friends! — so when he sat me down a few months ago with a serious and nervous expression on his face, I knew something wasn't right. About seven years ago, Steve was diagnosed with kidney disease. Thankfully, through a positive attitude and a healthy lifestyle, he has successfully delayed the decline of his kidneys for years. But as I recently learned, despite best efforts, Steve's kidney function is now hovering below 16 percent, which means it's time to get proactive about finding a living donor.
But where does one start? "Can I have your kidney?" doesn't exactly roll off the tongue on the ski hill or at a dinner party.
In Steve's case, he started with me and it wasn't even a question in my mind — of course, I would get tested. The process of being considered as a living donor for Steve was quick and simple at St. Paul's Kidney Clinic, but it turns out I'm not a match. Neither are the dozens of other friends, family, and strangers, who have stepped up to go through the testing process for Steve.
But the good news is that anyone and everyone can be tested because the requirements for a matching donor have broadened far beyond hereditary connections. Steve's doctor says that thanks to medical advances, the surgery is actually the easiest part — the hard part is finding a compatible donor.
You might be thinking to yourself that this blog post has nothing to do with insurance and risk management … and you're absolutely right. I'm leaning on my professional network to help generate awareness about kidney disease and to share how hard it is to search for a living donor to find a compatible match. Before Steve was diagnosed, I was blissfully unaware of the process and its challenges, but now that I've had a front-row seat, I feel compelled to share my knowledge. It could help save Steve's life, and hopefully, the lives of many others.
If you're interested in learning more about kidney disease, being a donor, or the advances made to the donation process, please visit St. Paul's Kidney Clinic here.
Thank you for your support.
Chris Ball, CEO, Reliance Insurance